Top-tier media and influencers based in NYC were invited to shake up their workout routine with the Muscle Milk Organic brand during two private workouts in Soho's newest indoor cycling studio: The Monster Cycle.
Attendees experienced unique visual cycling classes with music videos streaming from a choreographed playlist throughout the ride. The workouts created an edgy vibe to tell the Muscle Milk Organic brand story through a fitness-infused pop experience.
"We're a very visual, stimulated culture so watching music videos while you read intensifies your ride," said Michael MacNeal, co-owner of The Monster Cycle. "There is no such thing as no or maybe."
Jenna Wolf, Today's first ever lifestyle and fitness correspondent joined the intense class that included guests from SHAPE, Men's Journal, People, Shape.com, Complex, Lucky and other outlets.
"It was really hard, fun and super high energy," said Lily Beilin, buyer for Target.
Muscle Milk Organic is sold exclusively at Target and will be launching a powder product after the first of the year. For a full video recap of the event, check out the Muscle Milk YouTube page.
Custom contemporary pop-art was designed and created in-house to create an edgy branded vibe throughout the trendy studio.
Towels were branded with the custom Muscle Milk Organic logo and provided to each participant prior to class.
Guests were treated to a casual braid bar for a pre-workout style before building up a sweat.
This cycle experience took on a totally different spin.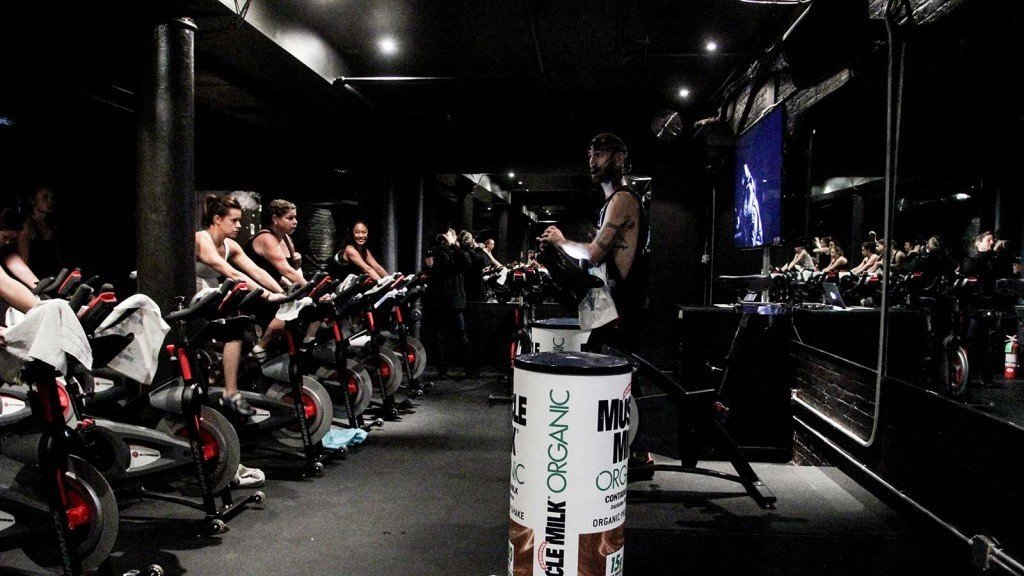 Today's Jenna Wolfe (center) sweats through a cycle session.
The Bassment experience: a dark cycle studio with the only light streaming from music videos blaring on the front screens.
Post-cycle recovery.